---
Master-slave paralleling, maintains stand-alone functions
IT8900 series support master-slave paralleling for same models, to expand power up to 600kW. The user operates on master panel and the slave unit will be distributed automatically, simple to use. Master-slave paralleling can achieve stand-alone functions, traditional paralleling is not workable under CV mode. However IT8900 series can parallel under CC/CV modes innovatively. IT8900 series are mainly applicable in the fields of DC charging station, power battery, high voltage UPS and military high power DC motor tests.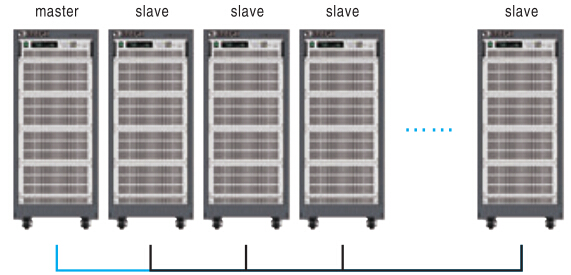 ---
4 basic load operation modes
IT8900 series provide constant voltage, constant current, constant resistance and constant power modes, to meet the test needs from customers.

---
CV+CC compound operation mode
CV+CC mode is a new increased mode for operation, it can help engineer to solve the transient surge current problem and avoid DUT trigger or DUT burned problem in application testing, for example, in charging station testing, under CV working mode, electronic load will rising up to 700V, current value will suddenly rise up because current rising speed is too fast, the result is that charging station will OCP so that no output from charging station, to avoid the similar problem. We can use CV+CC mode to set CC(I-Limit) value, setting interior current value will no more than OCP value in charging station, it can effectively avoid the current surge and solve the OCP problem.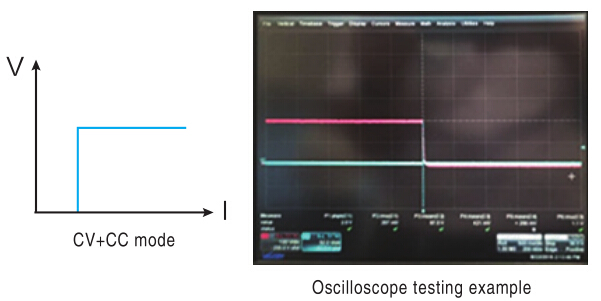 ---
CR-LED (CC+CR) operation mode
IT8900 series CR-LED (CC+CR) mode can supply LED power drive testing and be applied in led current simulation, to simulate the ripple in real testing, CR-LED can improve speed and stability for control loop, it can solve the voltage and current jitter problem in LED driver testing, furthermore, IT8900 can increase frequency width, it can help users to achieve PWM dimmer testing.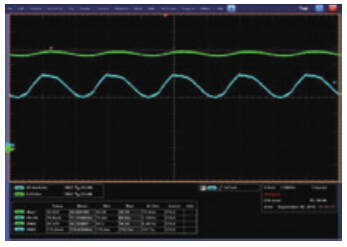 ---
CV loop speed is adjustable
We believe that many engineers will meet the below similar situation, load loop speed is too fast or too slow to match some slow or high speed power supply features, result is testing value will vibrated. This problem can be well solved with IT8900 series, when appear mismatch situation, users can adjust interior CV loop speed with "High-rate" or "Low-rate" to achieve the best matching point.
This function can conveniently help customers to solve the different matching problems. Even it can save the cost and improve testing efficiency, after a simply setting up, one electronic load will meet the multi complicated DUT testing, CV high-low rate testing: power supply: IT6015 setting up: 60V/1A Blue is voltage waveform, green is current waveform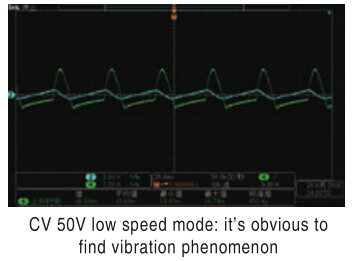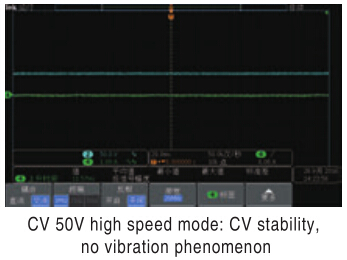 ---
Transient over power loading capability
Transient over power loading capability, it will make load to take over power loading capability in short time, users no need to select types as maximum power value, it can extremely save cost. This function can be widely used the DUT transient peak power supply ability. Such as DC motor start-up simulation, start transient power will be several times of common working power, or else, it can simulate power supply's transient over load features, application in discharging for high power battery in transient time.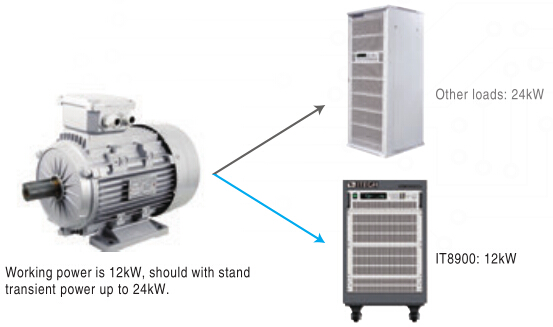 ---